E-commerce is a process consisting of a set of processes that emanate from it, which work in a homogeneous and sequential manner, such as the gear that drives machines. In order for the e-commerce process to succeed in its comprehensive and extensive process or the electronic procurement succeeds, these processes must work well and smoothly until the process is successful.
Electronic payment is one of the most important processes that affect the success of any online store and improve the experience of customers about their experience purchasing on this site or that. As a result, online stores owners are keen to provide multiple ways for all their customers to pay e-payments over the Internet without difficulty or difficulty by providing various electronic payment gateways that provide services and capabilities that help the customer to improve the online payment experience.
Based on that, we decided to create a large series of articles on our official blog that showcase all the most popular payment gateways around the world. In every article, we will talk about one of those popular payment gateways.
Hence, through this article, we will introduce one of the most popular and effective payment gateways around the world; this gateway is "PayPal."
What Are Payment Gateways?!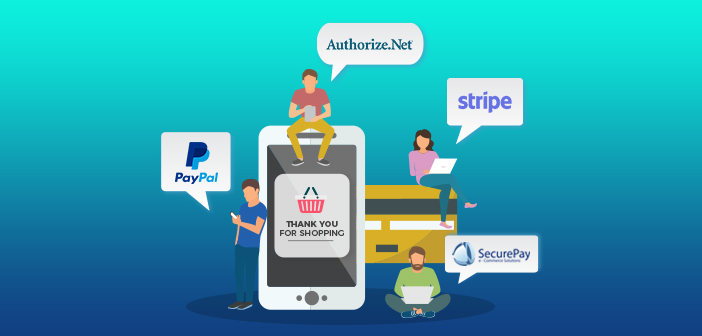 Payment gateways or electronic payment methods are ways for online shop owners to pay for their products through different credit cards through various websites.
On the same side, it should be noted that the provision of multiple methods of payment and highly reliable within any online store can affect significantly the volume of sales, whether positive or negative, as many scientific studies that if the electronic payment company that deals with the site or online store company This helps to a large extent the bounce rate on the store and also drives a large number of customers and shoppers to back away from the purchasing decisions they have taken.
About PayPal
PayPal is one of the leading online payment companies, if not the best. The company provides all customers, whether individuals or companies, services to send and receive payments securely, easily and smoothly through personal accounts or websites.
PayPal takes over most of the auction sites and e-commerce sites as well as most of the world's businesses, which rely mainly on PayPal's online payment services, making PayPal a leader for all other online payment companies.
"Thedailyrecords" ranked the top 10 e-payment gateways in 2018 as confirming that more than 7 million companies worldwide rely heavily on PayPal's online payment services, which are highly trusted in their e-services. One of the most important features that differentiate the payment company PayPal electronic payment is accepted to pay more than 25 currencies in the world.
When you talk about how to subscribe and enjoy PayPal services for e-payment through your online store or website, all you need to do is enjoy an e-mail, credit card or bank account. Make it easier for customers to manage their accounts via mobile phone with ease.
PayPal Features & Advantages
On this front, it should be mentioned that PayPal offers non-count features, services, and competitive advantages, that's why it ranks all the other payment gateways around the world. These are some of PayPal popular and competitive features & advantages:
1- PayPal is considered to be a simpler, safer way to pay and get paid.
2- It is for everyone who pays or gets paid.
3- More than 200M active accounts worldwide.
4- More than 7 million businesses around the world offering PayPal.
5- It enables all online stores owners around the world to offer their customers world-class payment solutions.
6- Shop at thousands of online stores around the world with PayPal.
7- Safer and protected.
8- Simple and convenient.
9- Mostly free, always upfront.
10- Across devices, worldwide.
PayPal Fees
Payment via Standard Paypal: 2.9% + 30 ¢ per transaction There are volume reductions if you process a lot of payments.
Payment via PayPal Express: 2.9% + 30 ¢ per transaction.
Payment via PayPal PayMe Pro: 2.9% + 30 ¢ per transaction, plus $ 30 per month.
For more details about PayPal fees, you can visit this page.
Build your online store with ExpandCart to enjoy marketing consultation, 24/7 customer support, and a full marketplace of apps & services tailored to every eCommerce business.

No credit card required and no hidden fees.