Google as an online medium is considered one of the most important and famous international companies that offer different advertising services to all parties of advertising operations around the world, whether publishers or bloggers, as well as owners of  YouTube channels, mobile applications developers, advertisers, traders, and profit organizations.
Google Inc. offers various types of online advertising services to all publishers and advertisers around the world through two famous advertising programs around the world:
Google AdSense: Google AdSense is a free tool offered by Google to all online publishers, including webmasters, online store owners, bloggers, mobile application developer, as well as various channel owners On the YouTube video giant platform, to make big profits from those sites and blogs by placing different ads that are often relevant to the nature of the content submitted within those sites, blogs and channels.
Google AdWords: Google AdWords is an advertising program or tool that's provided by Google company to all service providers and products producers around the world who want to market and promote their services or products to a wider audience and users around the world to achieve the highest selling rates and thus generate huge profits by launching Online advertising within various websites, blogs and YouTube channels that attract more audiences around the world.
In the previous article on our official E-commerce blog "ExpandCart" -the most famous in the Arab world-, we talked about the first type of advertising services provided by Google to all publishers around the world to help them make huge profits from their sites and blogs and their channels on YouTube by showing Ads within those sites; this type is Google AdSense.
But, through this article, we will talk about the second part of Google's technological services to all service providers and products around the world, so that they can market and promote these services and products around the world and achieve the highest selling rates through less payment and lower advertising costs. This type of advertising service is provided through Google AdWords.
What Is Google AdWords?
Google AdWords is one of the most important advertising services provided by Google Inc. for different types and nature of products and service providers, so that they can reach as many people as possible through the Internet, which in turn helps to raise sales rates And demand for those services or products of any kind and thus increase profits quickly and effectively.
More clearly, Google AdWords is a program that helps customers find your business when they search Google for the services or products you offer and pay only when they click on the ad to visit your website or call you.
Google AdWords Features & Services
Google AdWords enables all service providers, product manufacturers and all service providers of all kinds around the world to have many competitive features and services that help them effectively and quickly get more of their services and products at the lowest possible cost through AdWords ads, which means more profit and gain in legitimate and easy ways by launching their own ads on relevant websites on the Internet. The following are the most important features of Google AdWords:
1- Help all advertisers around the world reach their target customers quickly, efficiently, easily and at the lowest possible cost.
2 – Provide all customers with a great variety of different Internet ads that achieve them more spread in different ways, primarily:
Google Search Ads.
Display Ads.
YouTube Ads.
Google Shopping Ads.
Google Play Store Ads.
Display ads: Your ad can appear in front of your customers via text and banner ads on Gmail and on a network of more than 2 million websites and apps.
3. Provide a variety of ways that the advertiser can reach the target audience.
4. The advertiser is able to select and target the audience they want to reach.
5. Make more advertising options available on the local or global scene. Google AdWords enables advertisers to choose the strategy that works best for them.
6. The ability to monitor the performance of ads of different types on the Internet. Google Ads allows advertisers to see how many users are viewing ads or visiting the customer's website.
7 – the possibility of testing ads before, during and after the launch; Google provides customers with all the details about the parts that have been successful in advertising and those that do not wear well at all within the advertisement, which helps the advertiser to modify the ad to achieve the desired end of it in the end.
8. Provide more advertising control options for the advertiser's budget. An advertiser can accelerate the budget at any time even after the ads are launched, and can cancel and stop the ads at any time without any conditions, fees or penalties.
9. With regard to the pricing policies of Google AdWords, the subscription to the program is 100% free of charge and the payment in the program is against the results, that the advertiser does not pay the giant company Google any amount only when the results (no visits, No fees).
10. The program offers advertisers different ways to pay, mainly three main ways, either by credit card, debit card or bank payment.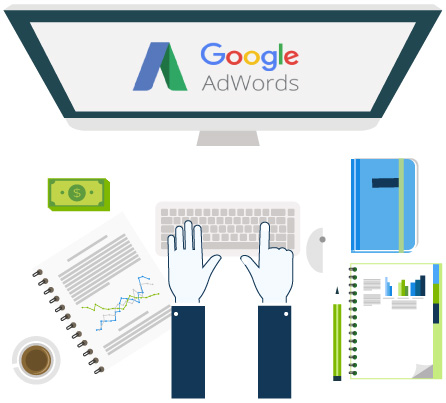 How To Register?
We mentioned in the Google AdWords Service Definition section that subscription to the program is open to all advertisers and service providers around the world, but signing up for AdWords requires a few simple steps to successfully activate the service:
1. Just create an account, set your budget, write your first ad, and select where you want the ad to appear, and you can always edit these details later.
2. Google Ads Expert Team will work with you to make sure your Google Ads account is successfully set up and help you create your campaign at no additional cost when you invest $10 per day or more.
3. The first 30 days are very important to see what works for your business and what does not work, and they'll guide you through each step.
Conclusion
In this article, we reviewed various advantages and features of advertising services provided by the Google company to the second half of the advertising process, which is the advertisers through the Google AdWords program. In addition, we talked about the many benefits that AdWords offers to all subscribers, as well as the steps required to sign up for the program to achieve high profits.
[xyz-ihs snippet="CTABtn"]